gThumb
An image viewer and browser utility for the GNOME environment. More information can be found at https://wiki.gnome.org/Apps/Gthumb.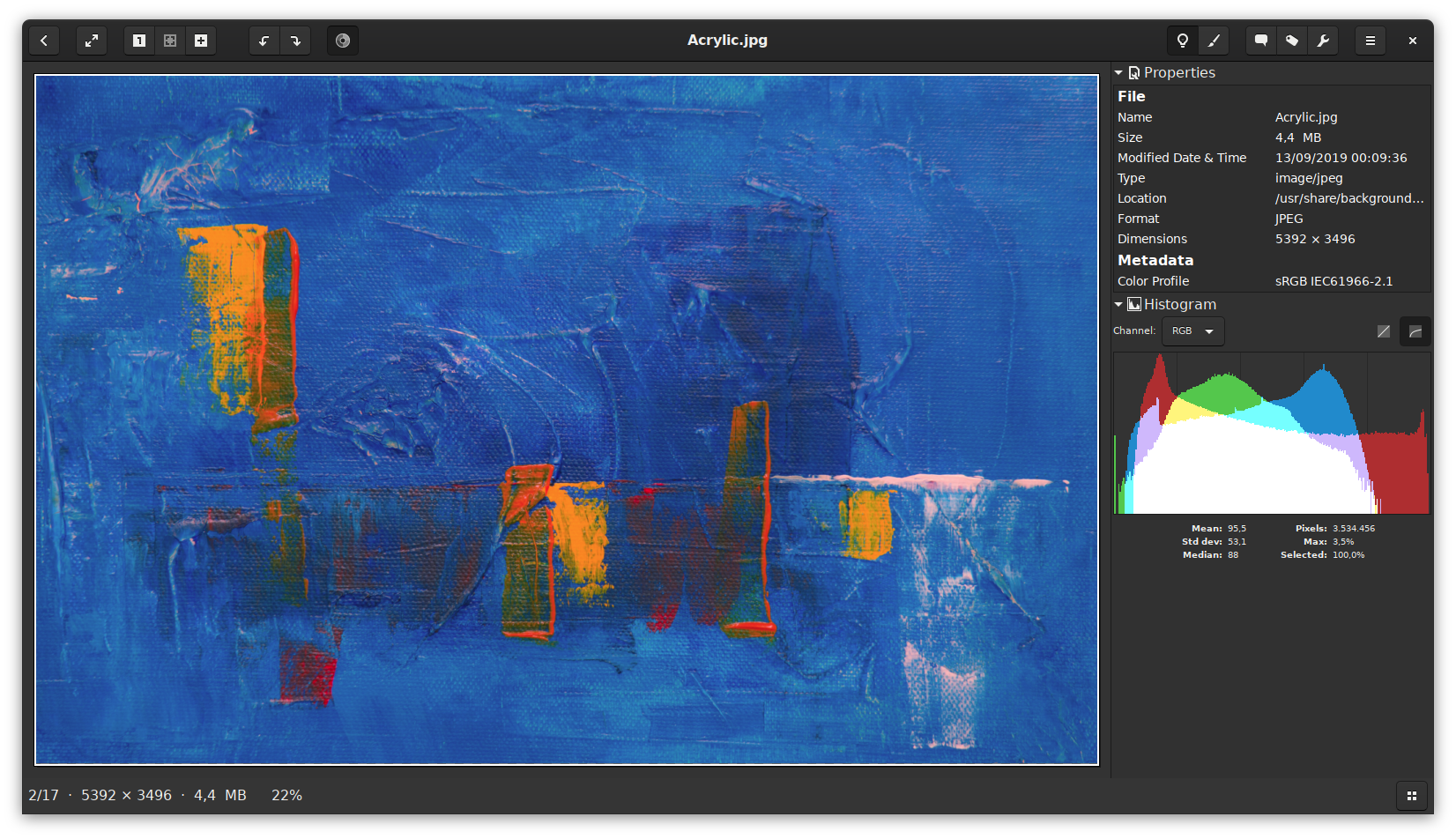 Features
Image browser

Browse your hard disk showing you thumbnails of image files.
Thumbnails are saved in the same database used by Nautilus so you don't waste disk space.
Automatically update the content of a folder.
Copy, move, delete images and folders.
Bookmarks of folders and catalogs.

Image viewer

View single images (including GIF animations). Supported image types are: BMP, JPEG, GIF, PNG, TIFF, TGA, ICO, XPM, JXL, AVIF.
Optional support for RAW and HDR (high dynamic range) images.
View EXIF data attached to JPEG images.
View in fullscreen mode.
View images rotated, flipped, mirrored.

Image organizer

Add comments to images.
Organize images in catalogs, catalogs in libraries.
Print images and comments.
Search for images on you hard disk and save the result as a catalog. Search criteria remain attached to the catalog so you can update it when you want.

Image editor

Change image hue, saturation, lightness, contrast and adjust colors.
Scale and rotate images.
Save images in the following formats: JPEG, PNG, TIFF, TGA.
Crop images.
Red-eye removal tool.

Advanced tools

Import images from a digital camera.
Slide Shows.
Set an image as Desktop background.
Create index image.
Rename images in series.
Convert image format.
Change images date and time.
JPEG lossless transformations.
Find duplicated images.
Extensions
gThumb has a plug-in system for extensions. Some standard features are implemented as extensions and are supplied with the standard distribution. Users may write (and share) additional extensions.
See https://wiki.gnome.org/Apps/Gthumb/extensions for details.
Licensing
This program is released under the terms of the GNU General Public License (GNU GPL), either version 2, or (at your option) any later version.
You can find a copy of the license in the file COPYING.
Dependencies
Mandatory libraries:
glib >= 2.38.0
gtk >= 3.16
libpng
zlib
libjpeg
gsettings-desktop-schemas
While not mandatory, the following libraries greatly increase gThumb's basic usefulness:
exiv2 - embedded metadata support
gstreamer, gstreamer-plugins-base, gstreamer-video - audio/video support
libtiff - tiff writing support
Other optional libraries:
libraw - some support for RAW photos
librsvg - display SVG images
libwebp - display and save WebP images
libjxl - display JPEG XL images
libheif - display and save AVIF images
lcms2, colord - color profile support
champlain, champlain-gtk - view the place a photo was taken on a map
clutter, clutter-gtk - enhanced slideshow effects
libsoup, json-glib, webkit2gtk, libsecret - upload images to and download images from some web services such as Facebook, Flickr
brasero - write images and comments to CDs
bison, flex - web albums
Download
Source archives available at http://ftp.gnome.org/pub/GNOME/sources/gthumb.
Clone the Git repository:
git clone https://gitlab.gnome.org/GNOME/gthumb.git
Installation
cd gthumb
meson build
ninja -C build
sudo ninja -C build install
More development information is available at https://wiki.gnome.org/Apps/Gthumb/development.